Frequently Asked Questions
Below are FAQ's related to music royalties, equipment, and more. Please contact us if you have a question that is not mentioned below.
Music service and music royalties
Approved equipment and browsers
Purchased in a Plan
Any produced promotional messages or branding purchased within our Exclusive, Elevate, or Enterprise Subscription Plan included at the time of purchase are to be produced one-time only, voiced by a standard KrossKast voice over talent, and not on any recurring or reoccurring basis.
Cost of Production – Standard Rates with Licensing 
$100 for each messaging or branding element for use up to 100 locations (minimum purchase of 3). This includes voice-over(s), imaging and production of each message for a professional sound.
Additional Licenses
For any custom messaging/branding elements KrossKast produces in house, there will be a one-time fee of $500 each for the purchase of additional licenses that allows for use across 101 or more locations.
Rights Of Use
All voice over recordings, messages, and/or branding elements purchased at our Standard Rates, provide your company a "KrossKast License", not 100% copyright ownership, that allows your company to use them as much as you want and for forever, provided that you are using them solely within our KrossKast music service. Any promotional message or branding elements produced and/or created within our establishment from or by our KrossKast talents, are non-transferable to any medium other than KrossKast, and cannot be used anywhere else except our KrossKast music service.
Purchasing Full Rights Of Use
Prices to own 100% of the copyright for any of our message or branding elements will not be found on this website. If you're interested in 100% copyright ownership of any promotional messages or branding elements, please contact us for more information.
Talent Reserves Endorsement Rights
Any of KrossKast's talent used to record and/or voice commercials, promotional messages, ads, branding (collectively, "Promotions") will not be required to endorse the clients said Promotion by using their name, likeness or brand. All of KrossKast's talent are strictly and only for use of "voicing" the client-scripts that our clients send to KrossKast.
Contractual Term
If after a contractual term is over and you are choosing to delay the signing of another contractual term with us, it is extremely important that you contact us before the contractual term ends to hold the message or branding elements that we created for your company. Otherwise, any promotional or branding elements we created will be deleted if a contract is up and not renewed.
Playing Your Own Messages and/or Branding
If you have your own promotional messages or branding elements that you would like aired within your establishment via our KrossKast music service, we are happy to play them for you provided the following. Any promotional messaging, commercials, branding sweepers/jingles, or any audio elements whatsoever, that you submit to us, you are guaranteeing that you hold 100% ownership of the copyright(s) for any and all audio elements submitted and you fully indemnify KrossKast and hold KrossKast harmless against any and all legal issues, if such issues are to arise from using your audio elements.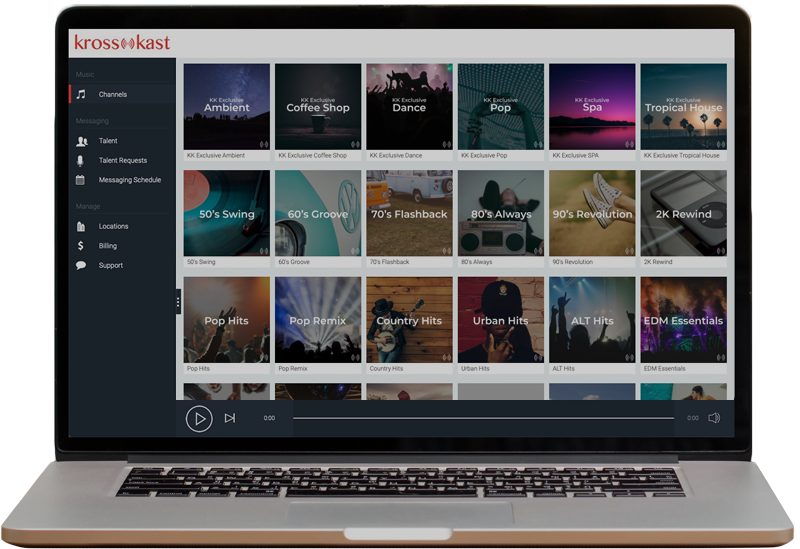 We do music, making your business one step simpler.
We do music, making your business one step simpler.